Accept Credit Card Payments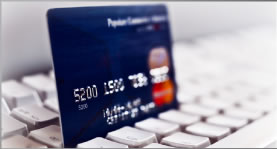 Selling online requires some form of accepting payments. AscenderCart is compatible with the following payment processing platforms: GoldenState, High Risk CC, PsBill and we are also compatible with CoCard Merchants. Accepting credit cards (e.g., Visa, MasterCard, Discover, and AMEX) increases your conversions. Getting a merchant account through Ascender ensures you have one point of contact for all issues regarding your online store. To make things even more simple with less hassles, Ascender has partnered with USAePay.
Our Merchant Account Rates:
Application Fee: FREE
Setup Fee: FREE
24/7/365 Support: FREE
Online Virtual Terminal: FREE
Statement Fee: $15.00/mo
Transaction/Batch Fee: $0.25/ea
Rate: 2.15%/ea
Our USAePay Rates:
Setup Fee: $99
Annual Fee: $99
Monthly Fee (5,000 transactions): $25/mo
Our Merchant Account Rates:
* Receive your payments directly into your bank account within two business days.
* Apply for American Express, JCB, Diner's Club, and Discover on the same application.
* 100% integration into your Ascender Cart® online store ensures you a single point of contact for support.
* Configure your USAePay account to process payments live or hold them for later completion.
* PCI compliant environment aids you in maintaining low merchant account fees.
* Online application process. * FREE Ascender Certified Merchant™ to show your merchants your website is safe and secure.
Ascender Certified Merchant™:
As an Ascender Certified Merchant, you give your customers confidence in the security of their personal and credit card information. The last thing a customer wants to have happen is have their identity stolen due to an unsecure website. The Ascender Certified Merchant logo includes a date/time stamp, a pop-up explaining your devotion to their security, and a warranty for their security. FREE to all merchants who have their merchant account with Ascender. Others are charged $25 per month.